---
Home | September 2006 Archives
---
Illegal Aliens | September 28, 2006 | Digg This
TCC LEADS THE FIGHT AGAINST SOCIAL SECURITY BENEFITS FOR ILLEGAL ALIENS
In connection with TCC's leadership in the effort to defeat the George Bush-Vicente Fox scheme to make illegal aliens who have returned to Mexico eligible for U.S. Social Security benefits, I have been in contact with Louisiana Congressman Jim McCrery, Chairman of the Subcommittee on Social Security of the House Ways and Means Committee. Here follows Chairman McCrery's response to my communications: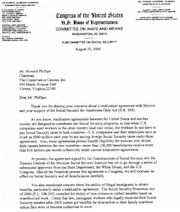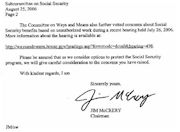 Read Congressman McCrery's Letter to Howard Phillips
Click on pages for enlargements
---
Gov. Ed King | September 21, 2006 | Digg This
A FOND FAREWELL TO GOVERNOR KING
In 1978, I ran for the U.S. Senate from Massachusetts as a Democrat.
As you are probably aware, my candidacy did not prevail, but that of my ticket mate, Ed King, was successful, as King became the Governor of Massachusetts, ousting Michael Dukakis in the Democratic primary.
King was a pro-life, anti-tax, conservative Governor who backed President Reagan in 1980 and again in 1984.
King has died at the age of 81.
---
D.C. Representation | September 18, 2006 | Digg This
D.C. REPRESENTATION IN CONGRESS IS UNCONSTITUTIONAL
Constitutional scholar Charles Orndorff, who is the Administrative Vice Chairman of The Conservative Caucus, has submitted some brilliant, irrefutable testimony on the unconstitutionality of giving the District of Columbia representation in the U.S. House of Representatives.
The testimony has been submitted for the record to the Subcommittee on the Constitution of the U.S. House Committee on the Judiciary.
Please read the complete text of Mr. Orndorff's testimony.
---
Mrs. Connally | September 15, 2006 | Digg This
MRS. JOHN B. CONNALLY WAS A GREAT PERSON
On Friday, September 1, Nellie Connally, the widow of former Texas Governor and U.S. Treasury Secretary, John B. Connally, died at the age of 87.
It was my great honor and privilege to be a guest of Governor and Mrs. Connally at their home in Floresville, Texas in 1975 when I had the opportunity to discuss with Governor Connally the possibility of his seeking the Presidency as an independent candidate in 1976.
Connally spent two days with me and a few of my colleagues and we discussed many things, including the assassination of President John F. Kennedy.
Mrs. Connally was extremely gracious and a marvelous hostess. As is so often the case, some rain fell into the life of Governor and Mrs. Connally, but each of them was an individual of high character, intellect, and patriotism.
---
Constitution Day Event | September 13, 2006 | Digg This
SEE YOURSELF ON C-SPAN?
On this Saturday, September 16, The Conservative Caucus, in cooperation with the U. S. Taxpayers Alliance and The Conservative Caucus Foundation, is sponsoring its Sixth Annual Commemoration of Constitution Day, featuring speeches by Dr. John Eidsmoe, Constitutional expert Louis Ingram, and Eagle Forum President Phyllis Schlafly.
C-SPAN has been invited to broadcast the event. If you plan to come, be sure to tell your relatives, friends, and coworkers so they can watch for you on C-SPAN.
This is an event you won't want to miss --- 1:00 to 5:00 P.M., Capitol Hilton Hotel at the corner of K and 16th Street, N.W. in Washington, D.C.
Be sure to come. It is something you will always remember.
---
Government Accountibility | September 12, 2006 | Digg This

COBURN-OBAMA BILL WILL HELP RALLY

OPPOSITION TO ADVOCACY FUNDING

I was pleased to sign the coalition letter to Senator Majority Leader Bill Frist demanding action on the Coburn-Obama bill S.2590 to promote Federal funding accountability and transparency. A copy of the letter to Majority Leader Frist follows:

September 6, 2006

An Open Letter to Majority Leader Frist: Bring S. 2590 to the Floor for a Vote!

Dear Majority Leader Frist:

On behalf of the millions of taxpaying citizens represented by the groups signed below, we strongly urge you to bring S. 2590, the Federal Funding Accountability and Transparency Act, to the Senate floor for a vote. The bill, sponsored by Senators Tom Coburn (R-OK) and Barack Obama (D-IL), would direct the Office of Management and Budget to create a publicly-available website that would list every entity receiving federal financial assistance, such as grants or contracts, and the totals awarded for each fiscal year. Such a website would entail very little cost and would greatly increase transparency in the distribution of government funding. At last, those who most deserve to know about this process – the American people – would have a tool to examine and evaluate the federal government's funding decisions and priorities.

And yet, after being "hotlined" for unanimous passage, the bill was suddenly derailed when a secret hold was placed, indicating a Senator would object to it on the floor. After weeks of investigation, ordinary citizens used phone calls and several websites to narrow the holds down to Senators Ted Stevens (R-AK) and Robert Byrd (D-WV). Both Senators then admitted publicly to the holds. And yet, Stevens has renewed his hold and, along with an anonymous Democrat, stands in the way of this common-sense legislation.

This unprecedented flurry of "outside the Beltway" action from across the political spectrum suggests that support for this bill is strong among the general public. Advocates from all ideological points of view share the common notion that transparency of and public access to government information is vital to the health of our political system. Through letters such as this one, over 110 groups – of all ideological persuasions – have conveyed to the Senate their strong support for this measure.

Citizens should no longer be forced to navigate the confusing labyrinth of bureaucracy just to find out how their tax dollars are spent. Furthermore, internal conflicts and parliamentary maneuvers should not prevent the passage of a bill with such widespread support. Americans of all political stripes have spoken with a unified voice in favor of transparency and accountability. Now, they call upon you to bring S. 2590 to the Senate floor for a vote as soon as possible.

We thank you for your public commitments to bring this bill to the floor and want to work with you to ensure this important legislation receives a straightforward vote when the Senate reconvenes.

Sincerely,

Howard Phillips
Chairman
The Conservative Caucus, Inc

Read this coalition letter with complete list of all signers
---
Your Financial Support | September 11, 2006 | Digg This
TCC MERITS FINANCIAL SUPPORT
I received a nice note from my friend, John Chalfant, author of the book, "America — A Call To Greatness". Here is what John had to say:
"I pray your financial plight will soon reverse. I think you may be a victim of blindness by your underwriters. By that I mean, you and TCC are a lethal weapon for our cause….the kind of weapon people about to lose their freedoms pray for. It isn't so much a matter of intelligent decision by your supporters to NOT support you. It's an unwillingness of them to face the gravity of America's perils and thus to recognize TCC as the weapon it is."
---
Constitution Day | September 8, 2006 | Digg This
JOIN ME AT CONSTITUTION DAY COMMEMORATION
I hope you will join me on Saturday, September 16, from 1:00 to 5:00 P.M. at the Capitol Hilton Hotel (1001 16th Street, N.W.) in Washington, D.C. for our Sixth Annual Commemoration of Constitution Day.
Admission is free and the program is excellent. It will feature remarks by Louis Ingram, Esq. on his new book, "A Politically Incorrect Guide to the Constitution", Dr. John Eidsmoe on the relevance of the Ten Commandments to every aspect of American law and jurisprudence, and TCC Administrative Vice Chairman Charles Orndorff concerning the unconstitutionality of Congressman Tom Davis's proposal to give D.C. representation in Congress.
The featured speaker, Phyllis Schlafly, will receive the 2006 Andrew Jackson "Champion of Liberty" Award.
Space is limited. So please confirm your participation with Helen Gombert at 703-281-6782 or by e-mail. You can also fax a confirmation to TCC at 703-281-4108.
A gift of $2,500 will qualify you as a Patron of Constitution Day, $1,000 makes you a Sponsor, and you can be a Friend of the Constitution for a $100 contribution to The Conservative Caucus.
---
Constitution Day | September 5, 2006 | Digg This
Please accept our invitation to the
TWO THOUSAND SIX CONSTITUTION DAY
COMMEMORATION
SATURDAY, SEPTEMBER 16, 2006
Celebrating September 17, 1787 when the Constitution of the United States was adopted.
Limited seating so please RSVP now
to reserve your seat by calling 703-938-9626.
Dear Friend of the Constitution:
I hope you can join me in Washington, DC on September 16 to commemorate the two hundred eighteenth anniversary of the completion of the Convention that gave us our U.S. Constitution.
There is no admission fee, but, because attendance will be limited by the size of the room, we must know as soon as possible whether you plan to attend.
TCC is sponsoring Constitution Day for the sixth consecutive year, in cooperation with The Conservative Caucus Foundation and the U.S. Taxpayers Alliance.
Beginning at 1:00 P.M. at the Capitol Hilton Hotel, at 16th and K St, NW, and continuing until 5:00 P.M., you will have the opportunity to learn more about the Constitution from several knowledgeable, compelling speakers.
I know that you and I share a love and respect for the Constitution, and that we each want Constitution Day to have a powerful impact.
That is why I hope you will support this event with a donation of $25, $50, $100 or more. In fact, if you can send $1,000, you will be listed as a Sponsor in the Constitution Day program.
TCC cannot afford to lose money on this event. We need to receive enough donations, designated for Constitution Day, to pay the full cost.
That is why I am asking you to help with a donation of $25, $50, $100, or even a Sponsor's fee of $1,000 to make TCC's Constitution Day possible.
Whether or not you provide financial support, I hope you will be able to attend on September 16. Since we will have to stop accepting reservations once we expect a full room, be sure to let me know as soon as possible, so that I can have your name added to the attendance list.
Sincerely,
Howard Phillips
Chairman
P.S. If you contribute $100 or more, you will be listed in the program as a "Friend of the Constitution", and a $1,000 gift makes you a Sponsor.
---
Visit HowardPhillips.com every day for the latest commentary, news and action items in support of restoring our Constitutional Republic
---
PLEASE DONATE NOW.
To support the many important projects of The Conservative Caucus with a donation, please call 703-938-9626 or donate online. Thank you.
---