NAU News Conference: Info Read our information & action items about the North American Union
News Conference Coverage: WWL CBS NEWS | Times-Picayune | Times-Picayune-2nd story | Philadelphia Bulletin | NewsBlaze | PaleoPalace | WorldNetDaily | 2nd WorldNetDaily article | Covenant News | Other recent news coverage of Howard Phillips: Wall Street Journal | Dallas Morning News | Spot | Newsbusters
Videos of News Conference - Click to watch

Part 1
Part 2
Part 3
Part 4
---
NAFTA Superhighway Poll | May 30, 2008 |
Digg This
POLL SAYS "NAFTA SUPERHIGHWAY" SHOULD NOT BE BUILT
Americans oppose the construction of a "NAFTA Superhighway" according to a poll conducted by The Conservative Caucus (TCC). Construction of the first segment, known as the Trans-Texas Corridor (TTC), was opposed by 97.5%. The full "North American Supercorridor" (its official name) would run from the Mexican port of Lazaro Cardenas through the central United States and into Canada.
There was also 100% opposition to leasing the TTC to a Spanish corporation, which would receive the tolls of those who drive on it. The use of low-wage Mexican truckers and dock-workers was criticized by 86%, and 99% considered it to be an unwise policy to allow the NAFTA-style lack of inspections for trucks arriving from Mexico.
There was 98% opposition to a North American Union (NAU) of the United States, Mexico and Canada. Opposition to a North American currency (replacing dollars and pesos) reached 99.5%.
A unanimous 100% believed that the President should not move toward a North American Union and 99.5% said they would be less likely to support a politician who supported the NAU.
The poll was conducted by mail during March of 2008 with about 4,000 responses.
The Conservative Caucus (TCC) is a grass-roots public policy action organization, formed in 1974. TCC organized the Coalition to Block the North American Union in 2006. It was active in defeating the SALT II Treaty, repealing the Catastrophic Coverage Act, blocking the Clinton health-care takeover, and impeaching President Clinton.
---
Space-Based Defense | May 29, 2008 |
Digg This
SDI REMAINS ESSENTIAL TO DEFENSE OF U.S.
I was introduced in 1979 to the concept of Global Ballistic Missile Defense by my colleague, retired Brigadier General Albion Knight.
I immediately held briefings with leaders of other organizations, including Ed Feulner of the Heritage Foundation and John Fisher of the American Security Council.
Subsequently, I embarked on a 50-state campaign to promote what became to be known as SDI. In the course of the campaign, I enlisted Phyllis Schlafly and retired Lt. Gen. Daniel O. Graham in our effort.
Although full development and deployment of a Global Ballistic Missile Defense never became a reality during the Presidency of Ronald Reagan, thanks to people like Ambassador Henry Cooper, who ran the SDI office under the first President Bush, we're finally making some progress.
Please review Phyllis Schlafly's important comments [The Phyllis Schlafly Report, Vol. 41, No. 9, April 2008] about a space-based defense for America:
"The U.S. Navy gave Ronald Reagan a dramatic 25th anniversary gift on February 21. A Navy missile raced into outer space and destroyed an orbiting satellite, thereby providing new proof of the vision President Reagan proclaimed in his then-sensational televised address on March 23, 1983.
"While the Navy SM-3 missile didn't knock down an incoming nuclear missile, the direct hit on a satellite proved again that our anti-missile technology is mature and reliable, and that an effective anti-missile system is within our grasp. Traveling at 6,000 miles per hour after being launched from a cruiser in the Pacific, the SM-3 missile was even more accurate than anyone had predicted because it struck precisely at the satellite's dangerous fuel tank.
"The successful kill of the satellite also confirmed the ability of the SM-3 to intercept at a higher elevation than had ever been tested before. It revalidated the Bush Administration's expenditure of $10 billion a year on anti-missile defenses. This direct hit comes on the heels of a particularly impressive track record of successful anti-missile tests in 2007. Since 2005, the Missile Defense Agency has scored 21 successful space interceptions in 22 tests.
"The so-called world community, egged on by U.S. pacifists and disarmament professionals, grumbled and sputtered because the United States dared to knock out a satellite. Actually, there was a very persuasive reason for our government to take immediate action against this particular satellite. It had failed in its mission and was edging closer to Earth carrying a large tank of toxic fuel that would be harmful to many people if it crashed into a populated area. Our government acted properly to protect the world against such an unnecessary disaster.
"This demonstration of U.S. anti-satellite capability also had a useful side effect. It signaled Communist China that we have anti-satellite technology and power. China shocked the world on January 11, 2007 by conducting the first successful test of an anti-satellite weapon. In its usual disregard for the health of humankind, China's test left 2,500 pieces of debris in space spread out in a way that poses a danger to manned and unmanned spacecraft.
"U.S. officials recognized China's action as a new strategic threat. Killing a communications satellite could knock out U.S. military and civilian communications systems.
"In his 1983 address, Reagan announced that he was 'launching an effort which holds the promise of changing the course of human history.' Indeed, it did. His speech extricated America from the defeatist McNamara-Kissinger-Nixon-Ford-Carter strategy of Mutual Assured Destruction, known descriptively by its acronym MAD.
"The MAD strategy postulated that our only hope of avoiding nuclear war was by threatening massive retaliation and killing as many enemy people as we could. "Morning-in-America" Reagan offered the contrary vision of hope.
" 'Wouldn't it be better to save lives than to avenge them?' he said. "What if we could intercept and destroy strategic ballistic missiles before they reached our own soil or that of our allies?"
"Reagan thus added the necessary fourth leg to his strategy of Peace Through Strength. It encompassed not only diplomacy, deterrence and offensive weapons, but also defensive weapons. This made eminently good sense to the American people, who fully understand that battle requires both a sword and a shield. Conservatives had been pleading for an anti-missile defense system for more than 20 years.
"The whole disarmament/pacifist crowd attacked Reagan unmercifully for his determination to defend America with defensive as well as offensive weapons. Ted Kennedy led the pack by ridiculing Reagan's plan as Star Wars.
"Reagan's opponents criticized him on every front, claiming an anti-missile system can't work because it requires hitting a bullet with a bullet. This new test should finally put to rest the false claims that it won't work.
"Now, with the benefit of hindsight, we know that it was Reagan's determination to push forward with what became known as his Strategic Defense Initiative (SDI) that won the Cold War. SDI was the centerpiece of his strategy.
"At the Geneva and Reykjavik Summits, Mikhail Gorbachev offered every carrot and stick in his arsenal to persuade or intimidate Reagan into abandoning SDI. When Reagan refused, Gorbachev realized the jig was up for the Soviet empire and its delusions of world conquest because the Soviets could not compete with the U.S. military-economic powerhouse.
"Reagan's SDI, so courageously proposed in 1983, ultimately enabled him to defeat the Evil Empire without firing a shot. We know the system works, and it's just as necessary in the post-9/11 world as in the days of the Soviet threat."
---
HILLARY SWITCHED FROM BARRY GOLDWATER TO KARL MARX
I first met Hillary Rodham in 1964 when she was a "Goldwater girl" at the New England model Republican Presidential nominating convention, over which I presided.
Several hundred students from all parts of New England took part in the convention, which ultimately chose Barry Goldwater to be the 1964 standard bearer for the Republican Party.
I was in charge of the convention because of two key positions which I held: Chairman of the Republican Party of Boston and State Chairman of the College Republican Federation.
The keynote speaker at our convention was a young Congressman from Kansas by the name of Bob Dole.
Hillary switched sides not too long after the convention, at which she had backed Goldwater. She truly went off the deep end.
---
California Memories | May 23, 2008 |
Digg This
CALIFORNIA MEMORIES
John Gizzi's recent column in "Human Events" (4/21/08, P.18) concerning the death of Joe Shell reminded me of my late friend, Rus Walton.
Walton, who was co-anchor with Tom Brokaw on a Los Angeles TV news program, was my inspiration for founding the U.S. Taxpayers Alliance (USTA), of which he was the first President.
Joe Shell sought the Republican nomination for Governor of California in 1962. Rus, a former official of the National Association of Manufacturers, was his campaign manager.
Shell himself was a great conservative who had been a football superstar at the University of Southern California where he was captain of the undefeated 1939 team that had gone to the Rose Bowl, joined the U.S. Army Air Corps, and was a flight instructor during 1942 and 1943. In 1944, he enlisted in the Navy and saw action as a pilot in World War II.
Gizzi wrote: "Like most of the interviews with him, my session with Joe Shell for a 1992 profile began with my mentioning to the former state assemblyman and longtime California conservative how he 'ran against Richard Nixon" for the Republican nomination for governor of the Golden State back in 1962.
" 'I beg your pardon,' Shell admonished me. 'That's not accurate. Nixon ran against me!' The Bakersfield oilman went on to remind me how he had been actively campaigning for the GOP nomination for governor when Nixon, little more than a year after losing the presidency in a squeaker, decided to enter the gubernatorial race. Shell blitzed the state, piloting his own Beechcraft Bonanza airplane and denouncing 'calling people liberals when they're basically socialists,' as he told Time magazine that year. Flanked by pompon-bearing cheerleaders known as 'Shell's Belles' and helped by vigorous volunteer workers under the leadership of campaign manager Rus Walton (a former National Association of Manufacturers official), Shell charged that Nixon was merely using the governorship as a stopping place on his way back to national politics.
"Amid charges that he was the candidate of the John Birch Society, Shell said no, he wasn't a Bircher, but there were a lot of fine people in the JBS and he was proud to have their support. (Nixon repeatedly denounced the society).
"Shell lost to Nixon by 2 to 1, and asked Nixon for promises to slash the state budget by $200 million if elected and give Shell backers one-third of the state's delegation to the next GOP national convention. Nixon refused. Nixon, of course, went on to lose that fall to Democratic Gov. (1958-66) Edmund G. "Pat" Brown—prompting the former Vice President's famous 'last press conference' in which he told reporters, 'You won't have Nixon to kick around anymore.' Of course, things turned out quite differently.
"When Shell died on April 11, that campaign was the event that news reports primarily remembered. The headline in the Mercury News was almost universally repeated: 'Joe Shell, California legislator who challenged Nixon, dead at 89.' But Shell's eventful life showed he was much more than that.
"A football superstar at the University of Southern California, Shell was captain of the undefeated 1939 team that had gone to the Rose Bowl. Eschewing a career in pro football, Shell joined the U.S. Army Air Corps and was a flight instructor from 1942-43. In 1944, he enlisted in the Navy and saw action as a pilot in World War II. Following his discharged, he settled in Kern County and launched a successful oil-drilling business. In 1954, he won election to the state assembly and later became the conservative point man against Gov. Brown's big-spending initiatives.
"Following his defeat at the hands of Nixon, Shell never sought office again. But he and his supporters remained active in the state party and helped Ronald Reagan win nomination and election as governor in 1966. He became a part-time lobbyist for his fellow independent oil producers and was a generous contributor to conservative causes and candidates. Shell's wife Mary was elected mayor of their hometown of Bakersfield and, in 1984, won a seat on the Kern County Board of Supervisors over the son-in-law of United Farm Workers leader Cesar Chavez. That same year, Shell's son Joe Jr. lost a race for the state assembly to Democrat Tom Hayden.
"Shell's longtime friend, Republican Gov. (1982-90) George Deukmejian, persuaded the Bakersfield man to take a seat on the state Agriculture Labor Relations Board in 1989. Shell quit two years later, and the reason he gave was vintage Shell: he was tired to being paid for doing almost nothing, he said."
---
VISIT TCC'S NAU WAR ROOM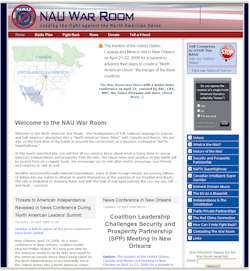 I am pleased to announce the launch of a brand new TCC-sponsored website, called the "NAU War Room" (www.NAUWarRoom.org).
This site will serve as the THE national headquarters of our ongoing campaign to expose and halt America's absorption into a "North American Union" (NAU) with Canada and Mexico. It will also serve as the main site for the campaign to prevent the construction of any and all NAFTA Superhighways.
I encourage you to visit our NAU War Room today and on a regular basis in the future. You will find what you need to know about TCC's effort to defeat this New World Order scheme and what you and others can do to help. Vital, up-to-date information (e.g., our April 21 press conference from the site of the most-recent SPP meeting between President Bush, Canadian Prime Minister Stephen Harper, and Mexican President Felipe Calderon) can be accessed from this site, along with other related breaking news stories and events.
Please be sure to also e-mail the NAU War Room web address to as many friends and relatives as you can. The proponents of the NAU and the NAFTA Superhighways are counting on public ignorance and apathy to help them enrich themselves at the expense of our liberty and independence.
It's up to us to stop them.